Car Battery Replacement near Me

---
We've all been there. On a cold winter morning, you turn your car key in the ignition and all you hear in return is the clicking of your starter. If your battery is dead, you'll need to know where to go for a battery replacement near Saco, Portland, and Scarborough, ME.
Our team at Ira Ford Saco has been handling battery replacements for years. We can also help you stay on top of maintenance, so you can avoid this scenario in the future!
---
​
Know When to Replace Your Battery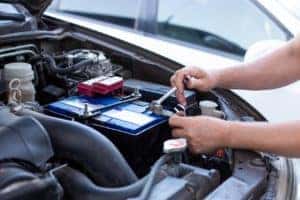 Car batteries usually last for about three or four years. Several outside factors could impact that number, however, so it's always a good idea to work a battery test into your regularly scheduled maintenance. That way, you can rest assured that your battery has enough charge to keep you moving.
There are also a handful of warning signs that you may notice as you drive around town. If any of the following grab your attention, you'll want to schedule a battery replacement as soon as possible:
Clicking sound when starting
Slow engine crank
Dim headlights
Engine backfiring
The winters here in Maine can be harsh and those cold temperatures slow the chemical reaction inside the battery, sapping the life out of it. You'll always want to get a voltage test before old man winter settles in. That's sure to keep you from getting caught out in the cold.
Battery Service at Ira Ford Saco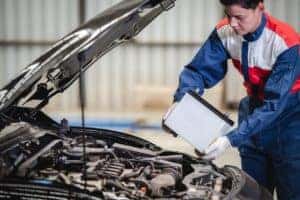 When you stop by our Ford service center for a battery replacement, we'll inspect your entire charging system and clean off any corrosion to help ensure everything is performing at its best. We're here to make sure your car has all the power it needs.
Whether you're just in need of a new battery or there are more part replacements required, you'll find genuine OEM (original equipment manufacturer) components at our parts center. They'll fit right and provide a long-lasting fix. You can even order parts online. Our technicians are standing by to give you a hand with the installation.
We also have a rotating list of service specials at our dealership. They'll help streamline your next maintenance visit, so you'll have more peace of mind every time you stop by for battery service nearby.
---
Where Can I Get a Car Battery Replacement near Me?
The next time you're looking to recharge your ride with a fresh battery, the technicians at Ira Ford Saco have the expertise to handle the replacement near Saco, Portland, and Scarborough, Maine.
Schedule a service appointment today!
---